Read Time:
1 Minute, 14 Second
"I get commission for purchases or clicks made through links in this post"
Hair plays a very important role in our life and if we understand we won't take it for a grant. Everyone has different hair like nails skin and all other things all based on genetics but we can keep our hair healthy and prevent them from damaging by all the chemical treatments we do in our life. We can make our scalp healthy and boost it by taking the right care of hair. Today I am going to tell you the hair care routine I have been using for months and have seen a visible healthy result. I bought CurlsmithDetox Microbiome Scalp System amazing product from Ulta. Ulta has many more amazing products for your daily routine care.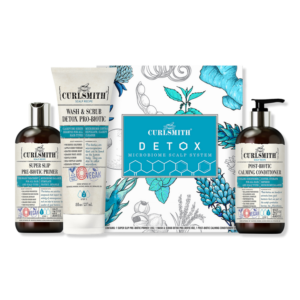 Basically, this comes with three different things it has three steps scalp system to really get like detox and deep cleanse for your scalp Which is super important especially if you are like me who use to like co-wash. The first one is Primer it detangles your hair and makes them soft it also protects your hair from losing moisture it locks the moisture inside your hair. The second step is The Wash & Scrub it deeply clarifies your hair and scalp from all dirt and exfoliates dead skin cells and makes the skin active. The third step is Conditioner it rebalances your hair moisture hair deeply for healthy and shiny hair.